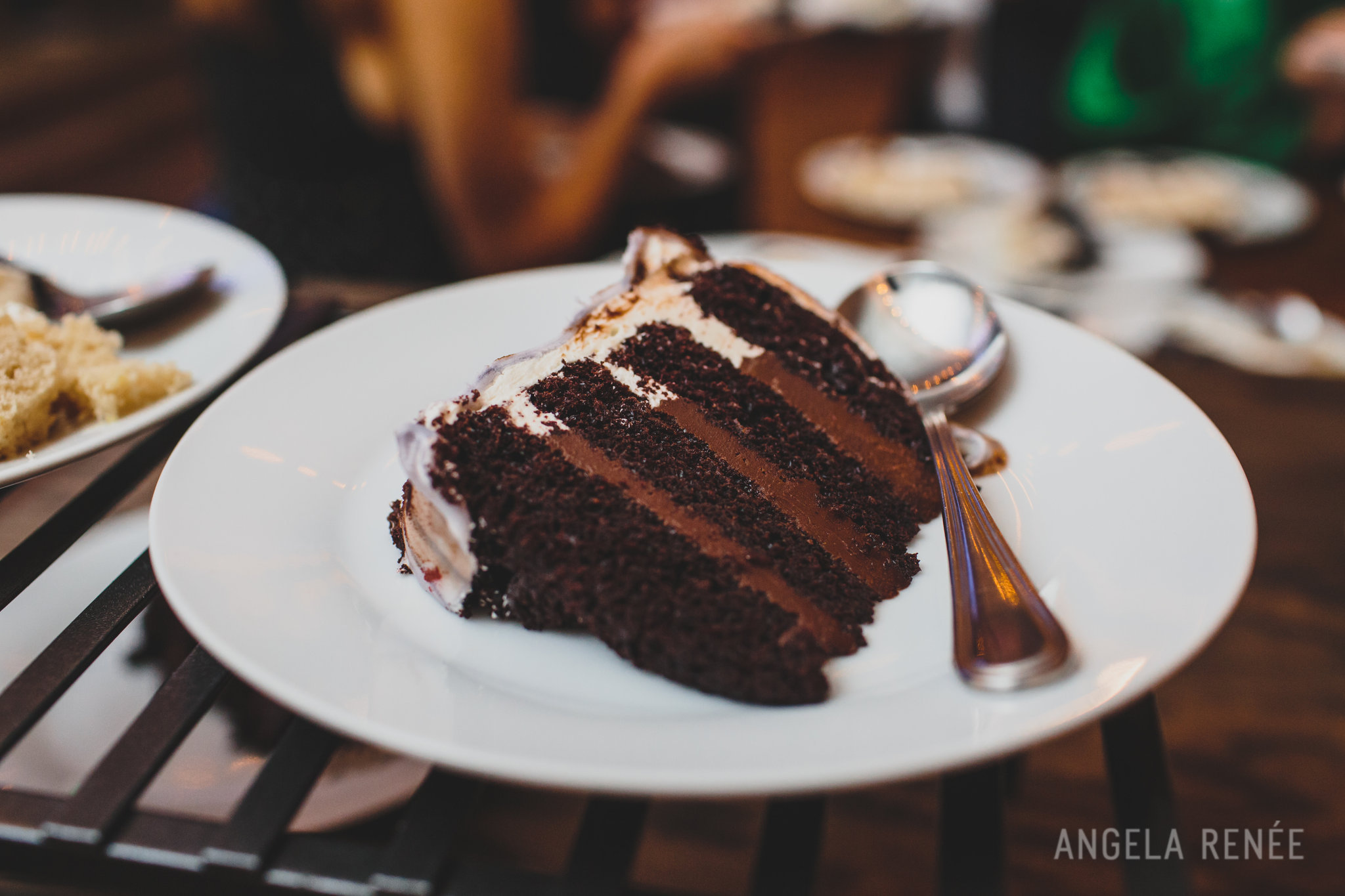 Whether it's a beautiful wedding cake, cupcakes, or mini pastries, we can provide spectacular and delicious desserts for your wedding.
We make all of our wedding cakes and pastries using the best ingredients. You and your guests will taste the difference! Your cake will look amazing as well. We make a limited number of wedding cakes each weekend to ensure that each cake is given the time and attention to detail that we've become known for.
Cake Tastings
We now offer both in-person consultation & tasting appointments, and a new To-Go tasting option. Please fill out our request form to schedule your cake tasting. During your appointment you will taste a selection of our best cake and filling flavors. We will also discuss the design of the cake to ensure it compliments your wedding. Please bring anything that might be inspirational...your invitation, floral scheme, color swatches, or images of cakes you love. We can't wait to work with you!
Custom Wedding Cakes
Pricing
Tiered wedding cakes start at $5/serving for buttercream and $6/serving for fondant. Additional charges include premium flavors, sugar flowers, detailed piping, sculpted tiers, hand painting, and other custom details.
Tastings
Select up to four cake and filling flavors. $25 tasting fee will be applied to any order over $300. Fill out this form to request a tasting appointment.
Flavors:
Cake:
Vanilla, Chocolate, Carrot, Red Velvet, Lemon, Coconut, Almond*, Pistachio*, Hazelnut*, Banana*, Carrot Walnut*, Apple Spice*, Gingerbread*, Pumpkin*, Graham*
Fillings:
Buttercream: Vanilla, Chocolate, Mocha*, Caramel*, Coffee*, Coconut*, Lemon*, Hazelnut*, Almond*, Nutella*, Pistachio*, Strawberry*, Raspberry*, Passion Fruit*, Mango*, Lychee Rose*, Peppermint*, Pumpkin Spice*
Cream Cheese: Plain, Coconut*, Lemon*
Preserves: Strawberry*, Raspberry*, Apricot*
Fresh Berries*, Milk Chocolate Ganache*, Dark Chocolate Ganache*
*premium flavor
Dessert Tables:
Dessert tables start at $3.75/guest. A la carte items start at $1.50/piece (minimums may apply)
Lemon Meringue Tartlets
Chocolate Caramel Tartlets
Fresh Fruit Tartlets
Raspberry Almond Tartlets
Petite Eclairs
Cream Puffs
Brownies
Lemon Bars (gf)
Flourless Chocolate Cake (gf)
Mini Cupcakes
Chocolate Chip Cookies
Sugar Cookies
Meringues
Marshmallows
Rice Krispie Treats
Chocolate Dipped Marshmallows*
Macarons (gf available)*
Rice Krispie Pops*
Cake Pops*
Verrines*
*denotes premium option
Favors:
Macarons:
Single in clear bag - starts at $2.75 ea
2+ in clear bag - starts at $5 ea
2+ in clear box - starts at $5.75 ea
Macaron pop in clear bag - starts at $3.25 ea
Royal Icing Cookies:
Starts at $2.75 - Custom monogram, shapes, and packaging available
Cupcake Favors:
Starting at $5.00 - Individually boxed, ribbon or custom sticker.
FAQs
Cake Tastings:
How much are cake tastings? The fee for a cake tasting and consultation is $25. This covers the cost of the cakes and fillings we make fresh for you on the day of your tasting. The fee is credited towards orders confirmed over $300.
How far in advance should I schedule a tasting? We suggest scheduling a tasting six months in advance of your wedding reception. It's good to schedule even earlier for popular weekends like Labor Day and New Year's Eve.
What days do you offer tastings? Tastings are by appointment. We do our best to accommodate requests for evening and weekend appointments. Please keep in mind that weekend appointments are limited during the wedding season (May-October) because we are busy giving our full attention to wedding orders already placed.
How does the tasting work? You will be able to taste a variety of our best cake and filling flavors. We will then spend time talking about the style of your wedding and your vision for the cake. Please bring anything that might be helpful for design inspiration – your invitation, floral theme, bridesmaid dress colors, etc. A proposal with your flavor selection and design specifications will be sent to you via email after your consultation.
Ordering:
How far in advance should I order my cake? We are a small bakery and take a limited number of wedding orders each weekend to make sure each cake has the time and attention needed. Therefore we recommend confirming your order at least three months in advance. Some weekends are more popular and fill up early while some weekends are less popular and allow us to take last minute orders. So don't hesitate to give us a call to see if your date is available.
Pricing & Payment:
What is the price of your cakes? Our tiered cakes start at $5 per serving for buttercream or $6 per serving for fondant. Premium flavors and complex designs will increase the cost of your wedding cake.
Can you work within my budget? Of course! In fact, it's very helpful for us to know your budget in advance to ensure we keep our design recommendations within your budget. We use a systematic and honest approach to pricing so you can be assured that we won't inflate the price of your design.
When is payment due? An initial 50% deposit is required to secure your date. The remaining balance is due two weeks prior to your wedding.
Is the deposit refundable? If your order is canceled within two months of your scheduled event the deposit is not refundable.
Delivery:
Do you deliver? Yes, we deliver wedding cakes throughout the Chicagoland area. In fact, we always recommend having us deliver your cake because we come equipped to transport the cake, make design decisions on-site (cake placement, flowers, etc), and can fix any blemishes that may occur along the way.
What is the delivery fee? Delivery within 10 miles of our Oak Park bakery is $50 plus $2/mile after 10 miles. Venues with lengthy security and loading procedures may incur a higher delivery fee. Sweets table setups will also have an additional fee.
When will the cake be delivered? We work directly with your caterer or wedding planner to determine the best time to deliver your cake. That's one less detail you need to worry about as your big day approaches.
Other:
How big are the cake slices? Wedding cakes are sliced banquet style – meaning the servings are smaller than you would provide when cutting a birthday cake at home. We size our cakes to accommodate slices that are 1"W x 2"L x 3-5" H. The height can vary depending on the design of your cake.
Can my cake be displayed outside? Yes, your cake can be displayed outside but we don't recommend having the cake in direct sunlight or temperatures above 75 degrees. We are not responsible for the condition of cake following set-up at an outdoor venue because outdoor conditions can be unpredictable (hot or cold temperatures, uneven ground, humidity, blowing wind, insects, etc.).
Do you make custom pastries or mini pastries? Yes, we make custom cupcakes, mini-cupcakes, & decorated cookies. French macarons are our most popular wedding favors and sweets table addition.
Can you accommodate food allergies? While we can certainly exclude allergens from many of our recipes we cannot guarantee the elimination of cross-contamination because we use shared equipment in a small kitchen. We use tree nuts, dairy, corn, eggs, and gluten in many of our recipes. We don't use any peanuts in our kitchen but it's possible that ingredients we use came from a facility that handles peanuts.